"Japanese CDS Market Seminar" was held
2014/06/12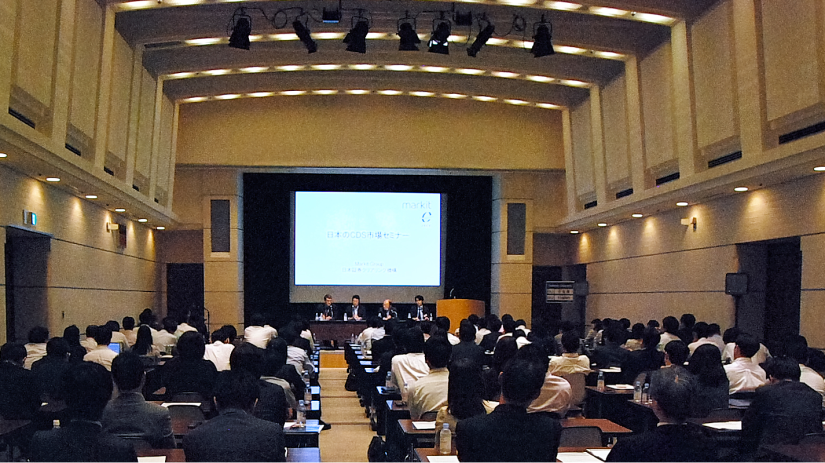 On June 3, 2014, "Japanese CDS Market Seminar" hosted by Markit Group Japan in cooperation with JSCC was held at TSE Hall. 
 Great attendance from many financial institutions, evidencing the strong interest in the topic, and the seminar turned out successful.
 Following the seminar, a reception was held at TSE Plaza, which helped development of relationship and active information exchange among attendees.
Program Detail
Material
Program 1
"Regulatory Trend in OTC Derivative Market, CDS Market Trends and Risk
Management, etc."
Mr. Marc Barrachin, Managing Director, Indices, Markit Group
Program 2
"Japanese CDS Market Research Results"
Prof. Mariko Fujii, Ph.D., Professor, Research Center for Advanced Science and
Technology, University of Tokyo
Program 3
"Panel Discussion by CDS Market Participants"
Mr. Kiyoto Suzuki, Director, Credit Trading, Credit Trading & Derivative Products Dept.,
Fixed Income Group, Mizuho Securities
Mr. Kouichi Iwai, Chief Manager, Portfolio Management Dept., Credit Portfolio
Management Division, The Bank of Tokyo-Mitsubishi UFJ
Mr. Hiroki Tomiyasu, Managing Director, Morgan Stanley MUFG Securities
(Moderator) Mr. Marc Barrachin