Clearing Participants

Procedure of Clearing Qualification Acquisition
Procedure of Clearing Qualification Acquisition
By setting out acquisition and maintenance criteria for each clearing service, JSCC conducts an examination for an applicant who intends to become a Clearing Participant (Qualification Acquisition Examination).
Through the Qualification Acquisition Examination, JSCC confirms "Management Structure," "Financial Basis," "Business Execution Structure" and matters necessary for operations of clearing services based on the application form submitted by the applicant. The examination will take three to four months under normal conditions.
As a result of the Qualification Acquisition Examination, if JSCC judges that the applicant fulfills all the requirements to be a Clearing Participant, JSCC will grant the clearing qualification to the applicant and approve the use of the clearing services.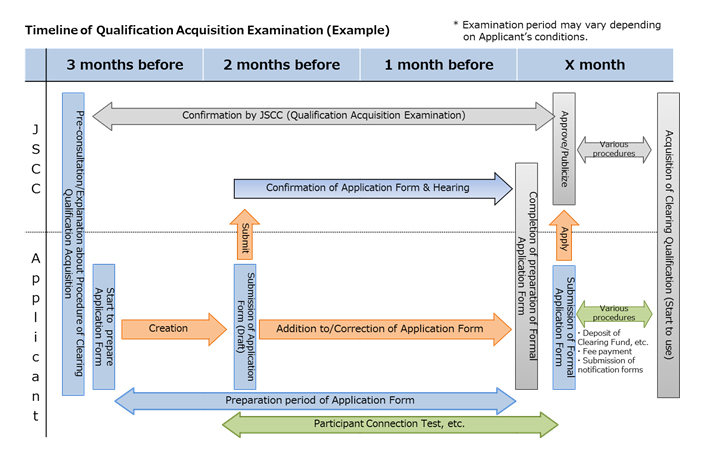 Contact Information related to Procedure of Clearing Qualification Acquisition
If you have any questions and inquiries about the Procedure of Clearing Qualification Acquisition, please contact:

Risk Monitoring Division, Risk Management Department
Japan Securities Clearing Corporation

TEL: 81-50-3361-1789
* Available hours: 9:00 through 17:00 on weekdays
Contact Us