Risk Management

Clearing Participant Monitoring
Clearing Participant Monitoring
(As of December 25, 2020)
As JSCC assumes obligations as a Clearing Organization and is exposed to the credit risk of each trade counterparty, it needs to manage this credit risk. Therefore, JSCC sets out the requirements for qualification as a Clearing Participant (acquisition criteria and maintenance criteria), and any entity that intends to become a Clearing Participant must apply to JSCC for the acquisition of a Clearing Qualification and obtain its approval.
Clearing Participants
In order to ensure the creditworthiness of counterparties, or Clearing Participants, JSCC continuously monitors its Clearing Participants for ongoing compliance with the participation criteria of each of JSCC's Clearing Businesses. These include the soundness of Clearing Participants' finances, of their management, and of their business structure.
First, to monitor the soundness of Clearing Participants' finances, JSCC receives reports on Clearing Participants' finances on a monthly, quarterly, semi-annually, and annually basis. Additionally, JSCC monitors daily news for information on Clearing Participant finances, as well as credit ratings, market information (stock prices, CDS/bond spreads).
Second, to monitor the soundness of Clearing Participants' management, JSCC requires Clearing Participants to submit a report when there is a change in either an executive officer, or a major shareholder. JSCC also monitors daily news for information on Clearing Participants' management.
Third, to monitor the soundness of Clearing Participants' business structure, JSCC monitors daily news, such as office transfers or reductions in operations. JSCC also conducts monitoring of daily clearing operations, including payments, securities deliveries, and the timely deposit of collateral.
If JSCC determines that a Clearing Participant does not satisfy the participation criteria, or has violated JSCC's rules, JSCC would take disciplinary measures against the Clearing Participant according to the procedures prescribed in the Business Rules of each Clearing Business.
These measures include, issuing instructions on business structure or position improvement, the suspension of all or part of its clearing services, and revocation of the relevant Clearing Participant's Clearing Qualification. Prior to taking these measures, JSCC may request the submission of materials, or conduct an on-site examination, to gain a better understanding of the Clearing Participant's finances, management, and/or business structure, if JSCC deems such a request necessary to ensure the stable operations of the Clearing Business.
In order to promote improvement at the Clearing Participant, JSCC may recommend appropriate measures based on its rules.
Clearing Participant Monitoring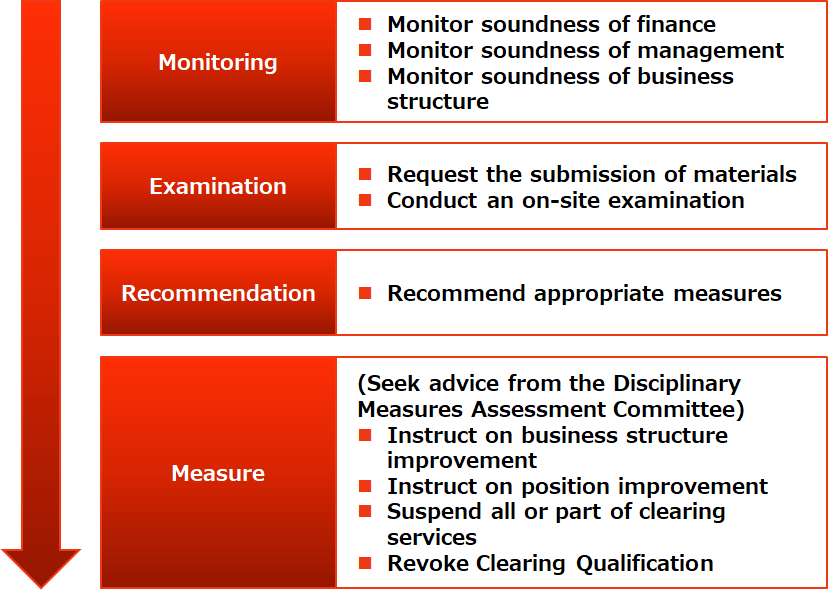 Responses to the FSB questionnaire regarding access to FMIs for firms in resolution
| | |
| --- | --- |
| Responses to Questionnaires in "FSB Continuity of Access to FMIs for Firms in resolution" | |