Outstanding Balance of Cleared Interest Rate Swap Has Reached JPY 1,000 Trillion
2014/10/28
The Japan Securities Clearing Corporation (JSCC) announced that by today, its outstanding balance of cleared IRS has reached JPY 1,000 Trillion (on a notional amount basis) for the first time since its launch of IRS clearing business in October 2012.

As of 16:00, the outstanding balance amounted to JPY 1,000.23 Trillion, and the total number of outstanding trades, 100,521 (which are both on a single-leg basis).

JSCC currently offers IRS clearing service for 22 major Japanese and foreign financial institutions as Clearing Participants and 17 entities as Customers or Clients. We provide clearing for Yen TIBOR-based IRS as well as Yen LIBOR-based IRS, with a view to adding OIS as part of our ongoing efforts to expand the eligible product scope.

To help improve the accessibility of our services for market participants, we will strive to ensure safe and efficient operations of our clearing services.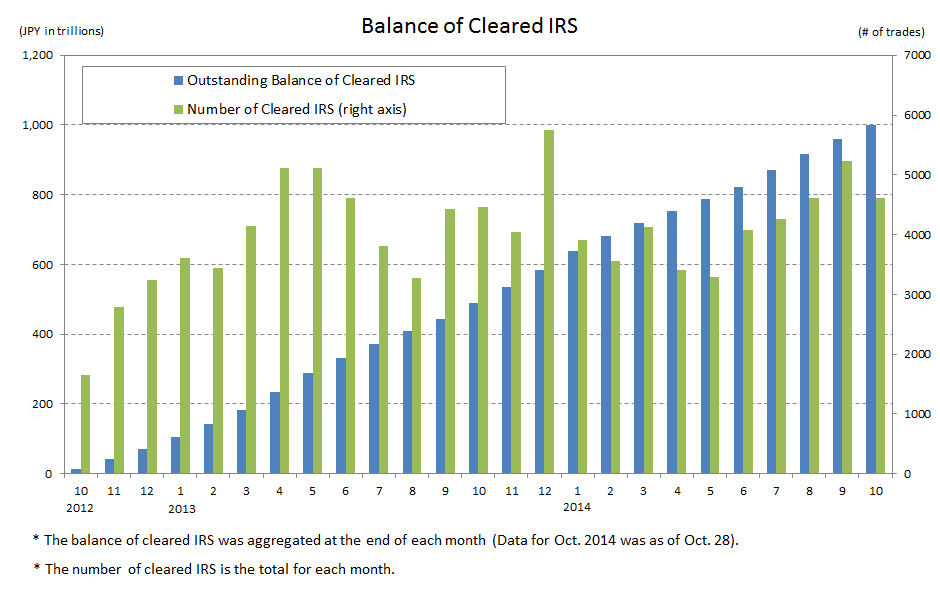 Statistics for Interest Rate Swap