"Japanese CDS Market Seminar" was held
2016/03/03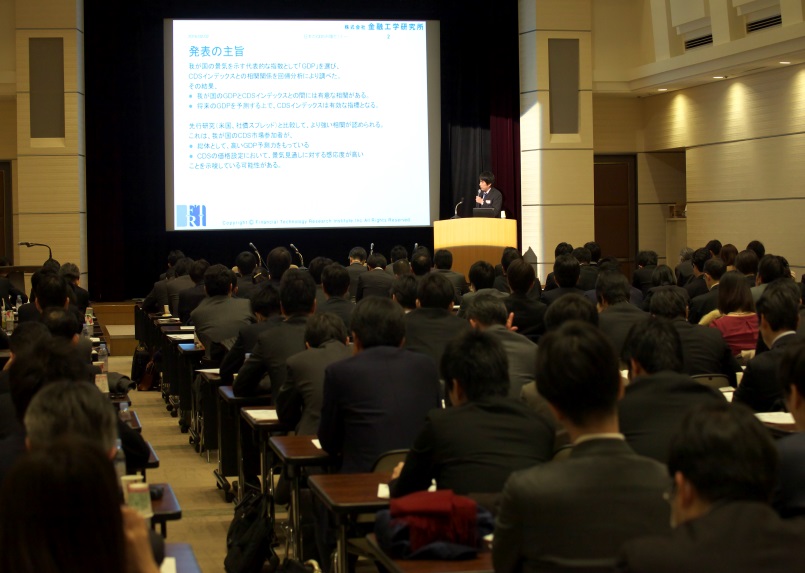 On February 2, 2016, "Japanese CDS Market Seminar" jointly hosted by Markit Group, Financial Technology Research Institute, Tokyo Stock Exchange and JSCC was held.
 Taking into account opinions from participants of the past seminars, in this third seminar, speakers from the business field and reseach field were invited to give speeches on practical business operations and current market status of CDS transactions in Japan from the perspectives of its regulations and how to take advantage of CDS data, etc.
 Having more than 120 attendees from many financial institutions, institutional investors, and etc., seminar turned out successful.
Program Contents
Program 1
"Changes in Environment surrounding CDS Market"
Mr. Hiroki Tomiyasu, Managing Director & Chief Risk Officer, Morgan Stanley MUFG Securities Co.,
Ltd.
Program 2
" CDS Spreads and Japan's Economic Activity "
Dr. Hiroto Nakajima, Senior Analyst, Research & Development Division, Financial Technology
Research Institute, Inc.
Program 3
"How to take advantage of CDS Data in Practical Business Operations"
Panelists *in Japanese alphabetical order (company)
Mr. Kojiro Kawai, Deputy General Manager, Product Control Team, Risk Management Dept, Risk
Management Group, Mizuho Securities Co., Ltd.
Mr. Kenzo Hirano, General Manager, Credit Portfolio Management Dept, Sumitomo Mitsui Banking
Corporation
Mr. Kouichi Iwai, Chief Manager, Corporate Business Planning Division/Global Planning Division,
Credit Portfolio Management Office, Portfolio Management Dept, The Bank of Tokyo-Mitsubishi
UFJ, Ltd.
Moderator
Ms. Marina Takayama, Vice President, Client Relations Lead-APAC, Markit